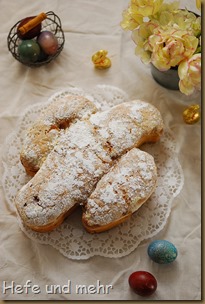 When I baked the little Colombinas about five years ago I was already searching for the traditional paper mold for Colomba pasquale. But I had no luck finding one neither in the "real word" nor in german onlineshops. And so I finally give in and bought a silicon mold, ignoring my dislike of this kind of baking molds. And the mold was delivered just in time, so the only thing I had to was to refresh my sweet starter and start baking.
Raisins and candid orange peel would make my beloved one rather unhappy, so I choose semisweet chocolate drops and chopped candid almonds instead. The fits well with my first colomba memory, when some years ago a former colleague brought back a big, chocolate filled colomba after visiting her parents in Italy. The dough for the dove is similar to my pandoro recipe, but this time I kneaded the butter into the dough. The dough was easy in handling and after baking I was able to unmold the colomba without any problems, much to my relief.
After cooling down we cut the dove and the first bite of it was pure delight. The crumb could be torn into long strands and was as light as a feather, and the combination of chocolate and candied almonds is great, too! This colomba is a real dream dove!