When Susan blog about how to shape a bread to a pinwheel I was hooked. I liked the form very much and thought directly about using this shape for rolls. And on saturday I tested this Idea.
Because rolls are much smaller and I did not want to roll them to thin  I decided to lay them just crosswise without curving the blades of the wheel. So they look more like a windmill now. Thats why I call them windmill rolls.
This rolls are perfect for barbeque or to be served with soup or salad.
Windmill Rolls
Pâte fermentée
175g whole wheat flour
165g flour Typ 550
230g water
1g fresh yeast
5g Salt
Dough
570g Pâte fermentée
10g fresh yeast
700g flour Typ 550
40g soft butter
15g salt
400g water
Mix all ingredients for the Pâte fermente and proof it for 2 hour at room temperature. Then put the dough into the fridge for 12 hours.
Now mix the incredients for the dough and knead 5 min at the slowest speed and 8 min at higher speed until medium gluten development.
Ferment for one hour.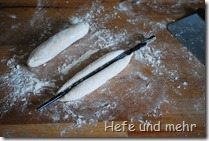 Divide into pices of 50g each and roll every piece to a 12 cm long strand, sprinkle with flour and press a chop stick lengthwise on the roll.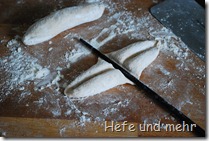 Now press the chopstick crosswise in the middle of the roll and twist it, so that both sides are lying with the intention upside.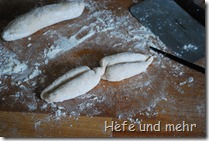 Form the second strand like the first one and lay it in a right angle over the first one.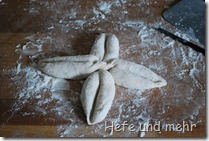 Proof for one hour upside down, preheat the baking stone in the meantime at 250°C.
Turn the rolls upside again and bake at 250°C with steam for 18 min.
Das ist mein Beitrag für Susans wöchentliches Yeastspotting. Einen Besuch auf ihrer Seite kann ich sehr empfehlen, es gibt dort so viele schöne Brote zu bestaunen.