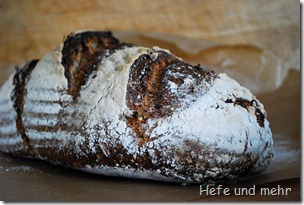 When Lutz describes a bread with the words "a new favourite" then I know that I have to try this bread by myself. And a bread with sourdough, whole wheat and seeds is always tempting for me.
And so I did not wait long until I bake this recipe. I made some small changes, like roasting the seeds before soaking them and I made the sourdough with freshly milled wheat. My third change is that I bake the bread a little bit longer, so that I get thick aromatic crust.
The resulting bread is delicious, an easy to handle dough, with a very good ovenspring and a great taste. I can just repeat what Lutz already said: A new favourite!
Seeded bread with sourdough a la Hamelmann
Sourdough
170g wheat, freshly milled
210g Water
25g Sourdough Starter
Soaker
110g Sun flower seeds
90g Sesame
50g poppy seeds
300 g Water
30g Salt
Dough
sourdough
soaker
excess water of the soaker
700g flour Type 550
530g  wheat, freshly milled
540g Water
15 g fresh yeast
40g honey
Mix water, flour and yeast for the sourdough and ferment it overnight (about 12 hours).
For the soaker roast all seeds in a pan until golden, then mix the dry ingredients and add the boiling water. Let soak overnight.
The next morning strain the soaker through a sieve and save the excess water for the dough.
Mix all ingredients except the soaker for the dough  and knead it for about 5 min at low speed, then 8 min on high speed until medium gluten development. Turn back to low speed and knead the soaker into the dough.
Ferment for 1,5 hours. Fold the dough three times during this time.
Form two breads and place them in brotforms.
Proof for 1,5 hour.
In the meantime heat the baking stone at 250°C.
Bake the breads for 55 min with steam.
I send this Bread to Yeastspotting, Susans weekly showcase of yeast baked goods.