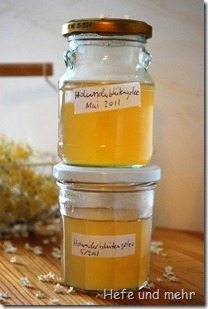 This year is a good year for elderflowers and due to the warm weather of the last weeks they are flowering very early.
Because I like their taste very much I already picked a lot to bake elderflower pancakes, make elderflower vinegar and elderflower jelly.
For the elderflower jelly I changed the recipe I used last year a little bit. Last year I soak elderflowers and lemon slices for 24 hours in water and used this extract to cook a jelly. It tasted good bad had a slightly bitter aftertaste. So this year I decided to use lemon juice instead of lemon slices.
The taste of the jelly is much better now. The taste is milder and the flavour of the elderflowers is more dominant in the jelly.