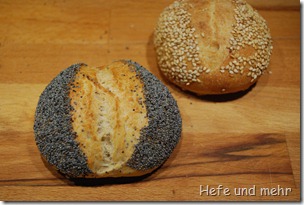 The quest for the perfect breakfast roll is like the quest for the holy grail.
For me a perfect breakfast roll must have a crispy crust and a soft, fluffy crumb. Nowadays, I am satisfied with the crust of my rolls but the crumb is to firm. The best recipe I found until now is the recipe for Ceriola. And so I used this recipe, but instead of water I add some soy milk. My thought behind this: Soy contains a lot of lecithin and lecithin makes dough fluffy.
And the crumb of my rolls is now better. Its still a long way to perfection but it is a step in the right direction.
Poppy seeds and Sesame rolls
200g sourdough(65% Hydration)
1000g flourType 550
500g soy milk
220g water
20g citron juice
50g butter
10g fresh yeast
5g malt
22g salt
Poppy seeds and Sesame as topping
Use the whisking attachment to mix the batter consisting of the sourdough, the yeast, all of the water, citron juice, soy milk and 150g flour, until the mixture becomes aerated. Now change to the dough hook to mix shortly the rest of the flour with batter. After a resting period of 30 min for autolysis, knead the dough for 5 min untill the gluten developed.
Rest for 60 min at a warm place. Put the dough at your working surface and weigh pieces of ca 75g – 80g. Rest for 15 min, then form the dough to a ball. Wet the sureface with water and roll in poppy seeds or sesame seeds.
Proof for 60 min.
Slash the rolls directly before baking. Bake at 250°C with steam for 25 min.
[tab:END]
This is my post for Susans weekly YeastSpotting.