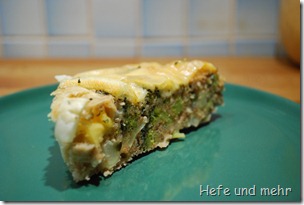 There is nothing better as finding such a great recipe when looking for a Dinner Inspiration in the world wide web. When I saw the recipe for this vegetable pie on Chaosqueens kitchen I was immediately hooked. Fast and delicious, with whole grain and lots of vegetables, this recipe sounded perfect for me. So I take a quick look into my pantry. I had a nice mix of winter vegetables at hand: parsnip, celeriac, carrots and broccoli. The only thing missing were Sunflower seeds so I replaced them with sesame.
The pie was as delicious as promised and so easy to prepare. Its the perfect recipe for a dinner after a long workday.
Chaosqueen found the recipe in two variations on Barbaras Spielwiese and the original Post was on Sammelhamsters Blog.
Vegetable pie
470 g mixed vegetables (parsnip, celeriac, carrots and broccoli in equal parts)
200 g fresh ground spelt
2 Tsp cream of tartar
2 eggs
200 g sour cream
50g milk
100 g diced cheese
2 Tbs Sesame
salt, pepper,  nutmeg
2 slices raclette cheese
Dice vegetables. Mix flour with sesame, cream of tartar, eggs, sour cream and milk. Season with salt, pepper and nutmeg. Mix in diced vegetables and cheese. Fill in a greased springform and top with raclette cheese. Bake for 45 min at 180°C.
[tab:END]