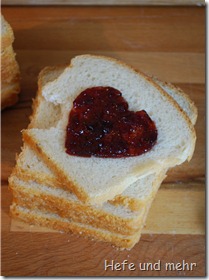 Normally I bake whole grain breads but for Breakfast on Sunday we like sometimes a lighter Bread. So I bake Pain de Mie from "Advanced bread and pastry" from Michael Suas. Its a delicious white bread, which makes a good toast, too. And when you increase the sugar amount and degrease the amount of salt you get a very nice sweet bread, too.
Pain de Mie
Pâte fermentée:
290g flour Type 550
200g water
5g fresh yeast
5g salt
Dough:
whole Pâte fermentée
1000g flour Type 550
310g water
310g milk
20g salt
20g fresh yeast
100g butter
50g sugar
Mix all ingredients for the Pâte fermentée and proof it for 1 hour at room temperature. Then put the dough into the fridge for 12 hours.
Mix all ingredients for the dough 5 min at slowest speed, then around 8 min on fast speed until complete gluten development
Ferment for 2 hours.
Divide the dough into 2 parts and flatten to an rectangle. Rest for 30 min. Now degas the dough (to NOT knead!) and roll tightly to  loaves.
Place in a buttered pan and proof for 1 hour.
Bake with steam at 200°C for about 30 min.
I submit this post to Susans Yeastspotting, her weekly showcase of yeastbaked goods.