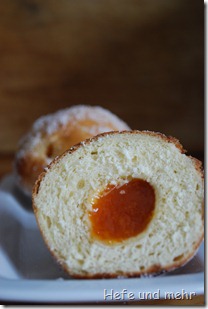 I like carnival only in very small doses. Because I am working in one of the strongholds of carnival in Rhineland and because I am living in a small town that is as "jeck"  as cologne its impossible for me to avoid carnival and all the drunken people. Drunkard are the most annoying part of carnival for me.  But carnival has a delicious side, too. There are all the baked goodies you can get at this time of the year. I like Berliner, a kind of jelly filled donut, very much. According to Bäcker Süpke there are two possibilities to get delicious Berliner for Rosenmontag: To buy them in the best bakery around or to bake them by yourself.
The best bakery in our town fills the Berliner with strawberry jelly this year, so buying Berliner is out of question. On the other hand, if I would eat strawberry jelly I would get nice red dots in my face which could be interpreted as carnival face painting. 😉
To stay on the safe side I decided to bake Berliner using Bäcker Süpkes recipe. The recipe worked really good in my hands, I have just to practise more to get the withe collar which is typical for Berliner.
To fill them I used a syringe which I combined with a 10 cm long cut of a drinking straw.
Berliner
yields 9 Berliner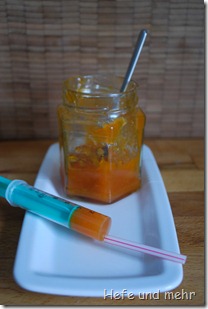 Sponge:
200g flour type 405
140 ml Milch
30g Hefe
Dough:
whole sponge
200g flour type 405
60g Butter
40g sugar
6g salt
45g egg (1 egg)
35g eggyolk (2 eggyolk)
For Frying:
1 l high heat oil (or more depending on pan size)
Filling:
100g apricot jam
Rum (optional)
Topping:
Mix the ingredients for the sponge and rest it for 45 min.
Add the sponge to the other ingredients for the dough and knead the dough for 10 min. Rest the dough for 15 min, then fold the dough, repeat this after another 15 min, then rest the dough again for 10 min.
Divide the dough into pieces of 80g and shape them into tight balls. Proof for 45 min on a couch. They have to develop a skin to prevent soaking when frying.
Heat the oil to 160°C and fry each Berliner for 2 min, two times each side. If you get a white collar, submerse the Berliner after turning it for the second time, so that the collar will bake a little bit, too.
Turn them in sugar directly after frying and fill them with jam after cooling.
[tab:END]
I submit this post to Susans Yeastspotting, her weekly showcase of yeastbaked goods.