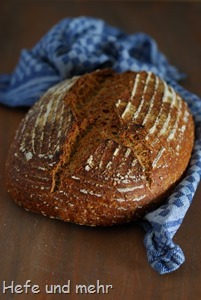 This is a leftover – recipe which I created while looking through my storage: I had a open bottle lingering in the kitchen after baking the Swan King Bread. The sweet starter needed urgently a feeding and in the pantry I found another box of steel cut oat, a souvenir from our last trip to the East Frisian coast.
I decided to soak the steel cut oat in hot water instead of boiling it so it keeps a certain bite. And the generous portion of roasted sesame together with oats and emmer gives the bread a very delicous nutty flavour, while the malt beer adds a subtle sweetness. The right bread for the first cold and rainy days in autumn.
Porridge Bread
yields 2 Breads
Porridge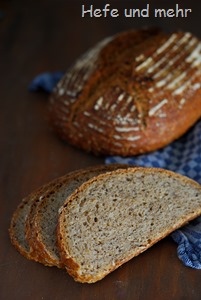 150g steel cut oats
100g Sesame
300g boiling Water
120g sweet Starter
120g flour Type 550
60g Water
Dough
sweet Starter
450g flour Type 550
200g Emmer, freshly milled
100g Water
300g Malt beer
15g fresh yeast
20g Salt
Porridge
Roast the sesame in a pan until golden. Mix steel cut oats, sesame and boiling water and let it soak for at least 3 hours.
Mix the ingredients of the sweet starter and let it rise for 2- 4 hours at 30°C until the volume doubled.
Place all ingredients for the dough except the porridge in the bowl of the kitchen machine and knead 3 min at slow speed and 6 min at fast speed. Now add the porridge and knead until well combined.
Let the dough rise for 2 hours.
Now half the dough and form 2 oval breads. Place them seam side down in a proofing basket.
Let rise for 1.5 hours at room temperature or overnight in the fridge.
Preheat the bread baking stone for one hour at 250°C.
Bake the loaves for 10 min at 250°C with steam, then turn the temperature back to 190°C and bake the bread for another 40 min.