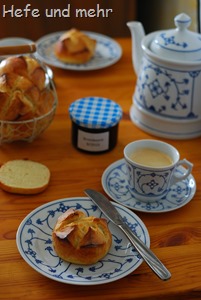 And this can happen in our house as well: the fridge is empty when I was sure that there should be some breakfast rolls left. And at nine in the evening not even I start to think about making a quick preferment for rolls. Instead I made a short stocktaking in the kitchen and found some left over boiled potatoes, cream and eggs in the fridge. With them I mixed a sweet dough for rolls. Like the dough for my favourite braid this dough has to rest in the fridge for at least one hour, but can stay there over night as well.
That's what I did and the next morning I just had to form the rolls, proof and bake them.  And even while I normally prefer rolls made with preferment and a more complex flavour, I was quite pleased with them. Due to potatoes and cream they have a very soft, fluffy crumb which can be torn into long fibres. The perfect sweet roll.
Sweet Potato Rolls
yields 10 Rolls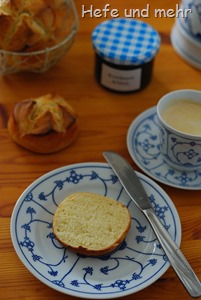 Dough
450g flour Type 550
125g boiled potatoes from the previous day, mashed
200g cream
60g egg (1 egg size L)
10g fresh yeast
7g Salt
50g sugar
40g Butter
For glazing
Knead all ingredients except sugar and butter for 5 min at slow speed. Then knead 7 min at fast speed. Now add the sugar in small increments and knead until the sugar is incooperated before adding the next sugar. At last add the butter all at once. Knead to full gluten development.
Let rise for one hour temperature plus 1-12 hours in the fridge.
Dived the dough in 90g pieces  and form into balls. Place on a paper lined baking  tray and proof for 1.5 hour.
Preheat the oven to 220°C
Glaze with egg and cut cross wise.
Bake at 220°C for 20 min.
P.S. I lost somehow track that it is already 16. of october and World Bread Day (quite eventful autumn until now), but somehow this quick recipe I baked last weekend fits well with a quickly prepared blog entry to stay inside the deadline of Zorras WBD!