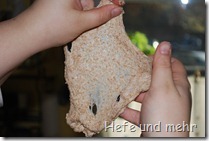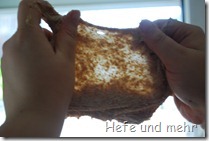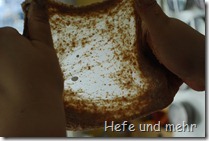 When baking bread paying attention to the development of gluten is really important. The gluten network makes the dough elastic and extensible and makes it possible that the dough can trap and retain gas that yeast and bacteria when using sourdough produces during fermentation.
In Wheat the two protein fractions that form this netw
ork are glutenin and gliadin. As soon as these proteins are hydrated they start forming chains that are connected with disulphide bridges. During the stretching and folding movement of kneading these Chains are stretched to thin fibres and theses fibres then connected to each others forming a three dimensional network. The longer you knead, the more developed the network becomes. But if you knead to long, the network will start to break down again.
So it is important to monitor the gluten development. A good method to monitor the development is the "window pane test". For this you take a bit dough and stretch it as much as possible to a thin membrane without tearing it. If it remains opaque gluten network is minimal developed  (picture one). If there are transparent and opaque areas, you have a medium development (second picture). If you can stretch the dough to a paper-thin, transparent membrane the gluten network is fully developed.