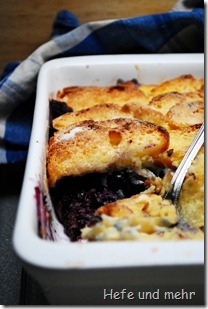 When I have some old sweet rolls I love to use them in the swabian variation of bread pudding. It is called "Ofenschlupfer" and consists traditional of sliced rolls and apples, soaked with eggs and milk, sprinkled with sugar and baked until golden. It is one of my favourite dishes of my childhood.
In the last years I forget this family recipe a little bit. What a pitty – it is such a delicious dish, a of a soft bread layer under a crispy crust, a mixture of tangy fruits and sweet caramel. Served with a vanilla sauce it is a great dessert (or main dish if you choose not to share it)
Today I prepared a variation of the traditional recipe and used blueberries instead of apples.
It tasted great and I promised myself that I will cook Ofenschlupfer more often in future!
Ofenschlupfer
2 one day old  rolls
100g blueberries or 1 apple, sliced
2 Eggs
275g Milk
20g sugar
1 Pinch Salt
topping
40g sugar
20g Butter in small pieces
Slice the rolls in thin slices. Butter ovenproof form and lay half of the roll slices on the bottom of the form. Cover with berries or apple slices, then finish with the remaining roll slices. Mix eggs with sugar, salt and milk and pour the mixture over the slices. Sprinkle with sugar and top with little butter pieces.
Bake at 200°C for 30 min until the upper layer is golden and the egg is cooked.
I sent this entry to Yeastspotting, Susans weekly showcase of yeast baked good.