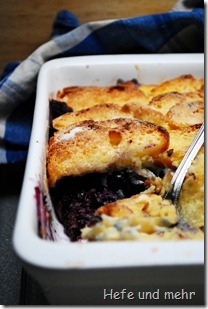 When I have some old sweet rolls I love to use them in the swabian variation of bread pudding. It is called "Ofenschlupfer" and consists traditional of sliced rolls and apples, soaked with eggs and milk, sprinkled with sugar and baked until golden. It is one of my favourite dishes of my childhood.
In the last years I forget this family recipe a little bit. What a pitty – it is such a delicious dish, a of a soft bread layer under a crispy crust, a mixture of tangy fruits and sweet caramel. Served with a vanilla sauce it is a great dessert (or main dish if you choose not to share it)
Today I prepared a variation of the traditional recipe and used blueberries instead of apples.
It tasted great and I promised myself that I will cook Ofenschlupfer more often in future! Continue reading →