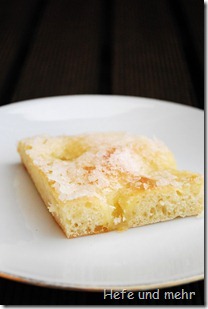 Paule baked Schuedi some weeks ago and this rise the whish in me to eat delicious "Butterkuchen". Butterkuchen (called Schuedi in Luxembourg) is a cake with a yeasted dough base which is topped with butter flakes and lots of sugar. When the butter melts during baking it forms little buttery sweet pits in the surface of the cake.
Like Paule I connect Childhood memories with this cake because this was the favourite cake of my granddad. As a child I did not like this cake so much, my favourite was streusel cake. But when I grow older realized how delicious such a simple cake can be. This cake shines with its simple but high quality ingredients. Using a good fresh butter is really important for a great taste, I prefer sweet cream butter.
For the dough I used a preferment to add more aroma to the dough and reduce the amout of yeast.
The cake tastes great. My boyfriend already asked for second one because this one was gone so fast.