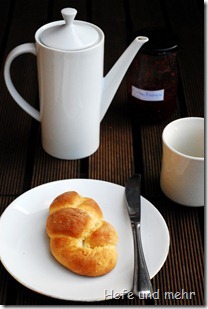 The bakery in the small village in which we spend our vacation in East Frisia offered little braids made of a slightly sweet dough. They taste great with jam or honey or as a sandwich with cheese.
The kitchen of our small holiday home contained a oven. So I brought the most important things for baking with me: scale, bowl and my hands

. And I tried to recreate the recipe for the little braids to take a little bit of our holiday memories back home.
I decided to use Pâte Fermentée as a preferment and a water roux for a fluffy crumb.
To make kneading more easy (I left the kitchen machine at home) I let the dough rest after mixing it together for 30 min – during this Autolysis the proteins in the dough are hydrated and developing a nice gluten network is then more easy.
The little braids are delicious – slightly sweet like the original and with a fluffy crumb.