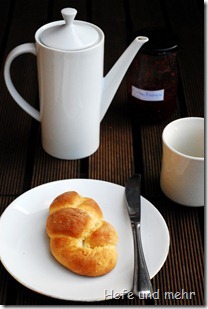 The bakery in the small village in which we spend our vacation in East Frisia offered little braids made of a slightly sweet dough. They taste great with jam or honey or as a sandwich with cheese.
The kitchen of our small holiday home contained a oven. So I brought the most important things for baking with me: scale, bowl and my hands

. And I tried to recreate the recipe for the little braids to take a little bit of our holiday memories back home.
I decided to use Pâte Fermentée as a preferment and a water roux for a fluffy crumb.
To make kneading more easy (I left the kitchen machine at home) I let the dough rest after mixing it together for 30 min – during this Autolysis the proteins in the dough are hydrated and developing a nice gluten network is then more easy.
The little braids are delicious – slightly sweet like the original and with a fluffy crumb.
Little Milk Braids
Pâte Fermentée
250g flour Type 550
175g Water
5g Salt
1g fresh yeast
Water Roux
150g Milk
30g flour Type 550
Dough
520g flour Type 550
90g Milk
10g fresh yeast
120g Egg (2 Eggs Size L)
60g Butter
50g Sugar
Glazing
The evening before prepare the Pâte Fermentée: Knead all ingredients until a smooth dough is formed. Ferment for 1 hour then chill the time in the fridge for at least 12 hours.
For the water roux whisk milk and flour until lump free, then heat it up to 65°C (needs about 3 min) while whisking. Fill the water roux in a bowl, cover its surface with cling foil and let it cool down to room temperature.
Dissolve the yeast in milk, then mix this yeast-milk together with eggs, salt, flour, water roux and Pâte fermentée until a homogenous dough has formed. Let it rest for 30 min
Now knead  for 10  min. Then add sugar in two steps and knead in between always for 1 min. At last add the butter all at once and knead until the butter is completely incooperated.
Ferment for one hour.
Divide into pieces of 80g each. Roll into Strands of 30 cm and cut each strand into 3 pieces of 10 cm. Braid those 3 Strands into little Braids.
Proof for 1 hour.
After proofing glaze with egg or cream. Then bake at 220°C for 15 – 20 min.
I sent this entry to Yeastspotting, Susans weekly showcase of yeast baked good.