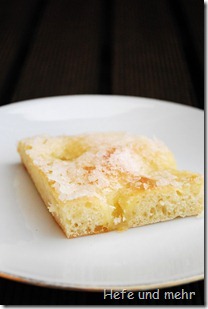 Paule baked Schuedi some weeks ago and this rise the whish in me to eat delicious "Butterkuchen". Butterkuchen (called Schuedi in Luxembourg) is a cake with a yeasted dough base which is topped with butter flakes and lots of sugar. When the butter melts during baking it forms little buttery sweet pits in the surface of the cake.
Like Paule I connect Childhood memories with this cake because this was the favourite cake of my granddad. As a child I did not like this cake so much, my favourite was streusel cake. But when I grow older realized how delicious such a simple cake can be. This cake shines with its simple but high quality ingredients. Using a good fresh butter is really important for a great taste, I prefer sweet cream butter.
For the dough I used a preferment to add more aroma to the dough and reduce the amout of yeast.
The cake tastes great. My boyfriend already asked for second one because this one was gone so fast.
This cake is hand kneaded because I bake it during our vacation in East Frisia.
Butterkuchen
Pâte Fermentée
125g flour Type 550
80g Water
2g Salt
1g fresh yeast
Water Roux
75g Milk
15g flour Type 550
Dough
260g flour Type 550
50g Milk
5g fresh yeast
60g Egg (1 Egg size L)
50g Butter
20g sugar
Topping
60g cold Butter
60g sugar
The evening before prepare the Pâte Fermentée: Knead all ingredients until a smooth dough is formed. Ferment for 1 hour then chill the time in the fridge for at least 12 hours.
For the water roux whisk milk and flour until lump free, then heat it up to 65°C (needs about 3 min) while whisking. Fill the water roux in a bowl, cover its surface with cling foil and let it cool down to room temperature.
Dissolve the yeast in milk, then mix this yeast-milk together with eggs, salt, flour, water roux and Pâte fermentée until a homogenous dough has formed. Let it rest for 30 min
Now knead  for 10  min. Then add sugar in two steps and knead in between always for 1 min. At last add the butter all at once and knead until the butter is completely incooperated.
Ferment for one hour.
Flatten the dough into a rectangle of 30 cm x 30 cm. Top the dough with little pieces of butter. Press the butter pieces in the dough then cover the cake with sugar.
Proof for one hour.
Bake at 200°C for 15 min.
I sent this entry to Yeastspotting, Susans weekly showcase of yeast baked good.