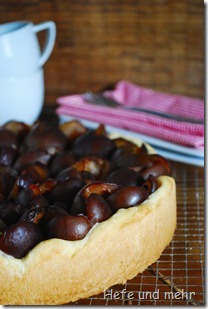 Last Sunday morning I wake up and heard the rolling thunder outside. Taking a look out of the window I decided that I would not leave the house to get some rolls from the bakery. The thunderstorm that was brewing outside turned the beginning day into night again. So I decided to spend the time in the kitchen preparing a dough for a plum cake instead.
My boyfriend has a firm belief how plum cake has to be. The crumb should be airy and soft and thickly covered with plums. During baking the juice of the plums should soak the crumb. And he likes not streusel, no cinnamon or sugar on the plums. To be honest, I am not a great fans of plum cake at all. If I could choose between another cake and plum cake, I would take the other cake for sure. But of course I bake a plum cake if my boyfriend asked me to.
I choosed a mixture of yeast dough and short pastry as a cake base. This combined the advantage of both doughs: a fluffy dough that stays fresh for a long time and which keeps the plum juice in the dough. To prepare this yeasted shortcrust pastry is very easy: Just prepare a shortcrust pastry and yeasted dough and combine both doughs after the yeast dough has risen. That works very well and the handling of the dough is great.
The boyfriend liked the cake very much and even I can say that the cake tastes well!
Plum cake
Yeast dough
5g fresh yeast
65 g milk
55g Egg (1 Egg size L)
190g flour type 550
1 pinch Salt
some citrus peel
1 Tsp Vanilla extract
20 g sugar
25g Butter
Shortcrust pastry
80g flour type 550
50g Butter
20g sugar
Topping
Yeast dough: Dissolve yeast in milk and mix with egg, flour, salt and spices 5 min with hand. Now add half of the sugar, knead for 1 min, add the remaining sugar, knead again 1 min. Then add all of the butter and knead until well incooperated. Let rise for 1 hour.
Shortcrust pastry: Knead all ingredients until a crumbly dough has formed. Chill  for 30 min.
Combine both dough and knead until a homogenous dough has formed. Roll to a circle and place it in a spring form with 26 cm diameter.
Remove the pit of the plums and place them upright in the spring form beginning at the rim of the cake.
Proof for 30 min then bake for 45 min at 180°C.