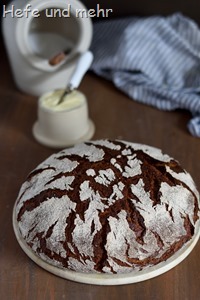 In January a reader asked me about a recipe for dark bread with lots of rye, but without Sourdough. I needed time to think about a recipe, but finally a recipe began to form in my head. As rye needs acid for baking, I choose butter milk as liquid. The complex flavour is created by a rye poolish and a soaker made out of dried whole grain bread crumbs. The bread is in the style of a dark farmers bread with 70% rye. The buttermilk adds a noticeable but mild acidity like you would find in a mild sourdough bread.
To create the fine cracked pattern on the crust, the loaf are turned on the peel already 20 minutes prior baking and left uncovered. This results into a slight drying of the skin of the loaf and as is spread a bit during this time as well, it will create cracks on the surface. Adding steam after 30 seconds of baking will enhance the effect as well.
After all, it is a good bread with a moist, regular crumb and a thick, flavourful crust. And as it is made without sourdough it is although a nice start for bread baking beginners who want a easier start into rye breads.