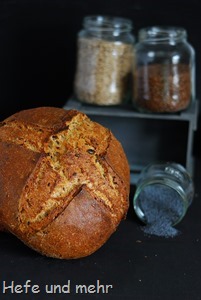 There are three different ways to soak seeds or flour: You can either cook them, or soak them in hot water or in cold water.   For this bread I decided to soak the seeds in cold water. They do not absorb not as much water as when hot water is used, and this results in seeds which have still some bite. As the seeds have to soak overnight some salt is added to prevent them from fermenting.
Seeds in a dough can inhibit gluten development and so the soaker is added after ten minutes of kneading. The dough is firm at the beginning and will get softer when the soaker, which contains some free water as well, is added.
For a hearty flavour I bake this bread with some beer. It is a mild organic weiss beer, but you can start to experiment with different kinds of beers. A dark brew, for example, would bring the beer flavour forward and would yield in a very hearty bread.
Seeded Beer Bread
yields 1 Bread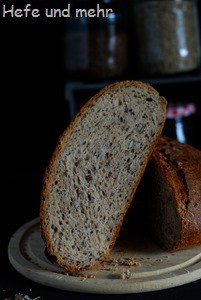 Soaker
25g Sesame
15g poppy seeds
15g pumpkin seeds
25g flax seeds
50g rolled Grains (oat, spelt, rye, wheat)
2g Salt
125g Water
Rye Poolish
75g Whole Rye flour
150g Beer
1g fresh yeast
Dough
Rye Poolish
200g Whole Wheat Flour
275g Flour Type 550
10g fresh yeast
10g Salt
150g Beer
25g Butter
Soaker
For the rye poolish dissolve the yeast in the water and mix with flour. Let rise for about 14-16 hours.Knead all ingredients for the dough for 10 min by hand.  Now knead in the soaker in small portions. The dough is now soft and a little bit sticky.
Let the dough rise for 1 hour at room temperature.
Place the dough on a lightly floured counter. Flatten the dough a little bit and start to fold the dough in the middle. Repeat until a springy ball has formed. Place it seam side up in a proofing basket or in a bowl lined with a well floured kitchen towel.
Proof for 1.5 hours.
In the meantime heat the oven together with a baking tray and a metal vessel for creating steam to 250°C.
Transfer the bread directly on the hot baking tray. Throw a handful of ice cubes into the hot metal vessel of the oven and bake for 10 min on 250°C. Then turn the temperature on 200°C and bake for another 40 min. 10 min before the end of baking, open the door shortly to release the steam.