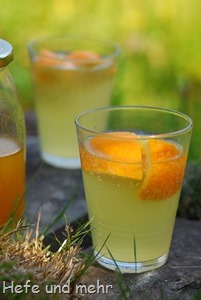 Nearly always I prefer to drink water for refreshment, most of the time sparkling water, sometimes tap water (the tap water here has a very good quality). But when the temperature rise I sometime I like to have water with some flavour. A virgin hugo for example or a simple glass of water with a piece of orange or lemon. And when the temperature hits the 37°C mark like in the last days,  I even like to have a glass of a cool homemade Orangeade.
My version 2.0 profits from the experiences with making orange powder. Simmering the orange and lemon zests sets free much more flavour and colour then simple infusing the zests in the orange juice. That I double the amount of the zests helps of course as well. And if the second orange is not needed for juice then cut them in pieces and use them to serve with the orange. This adds even more flavour and looks beautiful as well.
Orangeade
Orange syrup
zests of 2 Oranges
zests of 2 lemons
50g raw cane sugar
150g water
150g freshly pressed Orange juice
50g freshly pressed Lemon juice
100g sugar
Orangeade (per glass)
1/2 Orange (organic, well washed)
1/2 Lime or lemon (organic, well washed)
some ice cubes
sparkling water
Orangen syrup to taste
For the Syrup bring the zests with water and raw cane sugar  to boil, then simmer at low temperature for 10 min. Now add juice and the remaining sugar and bring to boil again, until the sugar dissolves. Let cool down a little bit, then puree the syrup with the zests in a food processor . Preferable, let the mixture infuse overnight in the fridge. The next morning  strain it into a flask. Keep cool until use.
For the Orangeade cut the orange and the lemon or lime into pieces. Place them in a glass, add the syrup and fill up with sparkling water. Serve directly.