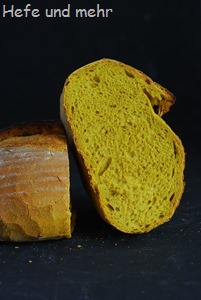 Bright yellow like the sun shines the tumeric loaf on my kitchen counter. And its good that it shines so bright as spring seems to be far away.
It was the first time in my live that I used fresh tumeric. I got very exited when I saw the rhizomes in our small wholefood shop and bought some directly. And while I packed them in my bag I already saw the bread I was going to bake with some  of them.
It is a light wheat bread with some whole rye flour. It has a soft and fluffy crumb and the rye poolish helps to create a good, crisp crust and balanced flavour. The poolish helps to elongated the shelf life as well. The tumeric I pureed together with some water in my food processor and added it then to the dough, which turned yellow directly.  I never had such a colourful bread rising in my kitchen – and that without adding any artificial dyes. The flavour of the tumeric adds nice hints of spiciness to the bread without overpowering the aroma of the bread. The fresh curcuma contains flavour notes I never tasted in the dried spice! So if you ever come across the fresh tumeric rhizome, buy some, it is really worth a try!
A small change in topic: A reader asked me if there is a possibility to find all recipes only made with yeast. I found that this is a good question and added the tag "only with yeast" to all recipes which needs no sourdough. It took some time as it has to be done manually but know you can find the tag in the tag cloud on the left side (you may have to scroll down a bit). The tag is written fat and big in the cloud, meaning that you can find a lot of recipes behind it – just klick and have a look by yourself!
And while traveling through the past seven years I found some recipes which could use some dusting – I think I will bake some of them again in the next month, using the knowledge I collected since then and tweaking the recipe here and there. Are there any recipes you would like to see Re-Baked? Or are there breads you miss here on the blog? Then leave me a comment or write me an email with a suggestion! I love getting suggestions from my readers about what kind of bread I could bake as this brings fresh ideas and new ways of thinking for me!
Tumeric Loaf
yields 2 Breads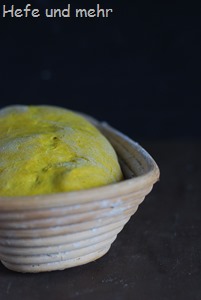 Rye poolish
200g whole rye flour
400g Water
1g yeast
Tumeric water
30g fresh tumeric
100g water
Dough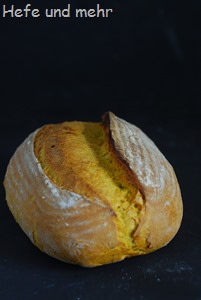 Rye poolish
800g flour Type 550
Tumeric water
150g Water
30g Butter
20g Malt
15g yeast
20g Salt
For the rye poolish dissolve the yeast in the water and mix with flour. Let rise for about 14-16 hours.
Mix water and fresh tumeric in the food processor .
The next morning knead all ingredients 5 min at the slowest speed and 8 min at higher speed until medium gluten development.
Let rise for 1.5 hours
Divide the dough into two equal pieces and form two oval breads. Place in a proofing basket with the seam side up.
Proof for 1.5 hours, in the meantime preheat the oven with a baking stone to 250°C.
Slash the breads lengthwise and place them in the oven with steam. Turn the temperature back to 180°C after 10 min and bake the bread for another  40 min.