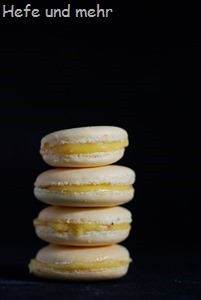 For this I have to blame Eva. She was so enthusastic about the new Book of Pierre Hermè that even I – who never was tempted by macarons before – started to think about baking them. I made a suggestion in the city library of cologne to buy the book and they did it immediately. Maybe they were tempted by Hermés Macarons as well?
After baking Berliner for carnival, I had a lot of leftover egg white. And as Eva promised, the recipe is not hard to follow if you have already a bit pastry experience. And it works perfectly for me, even as Macaron Newbie I got macorns with "feets".
For the filling, I decided to go astray from Hermès Recipe as I had some pomeranz juice sitting in the fridge and knew from experience that a curd made from this is incredible delicious. And the fruity tartness with the subtle bitter flavour harmonize very well with sweetness of the macaron.