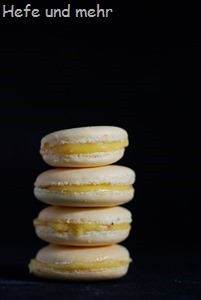 For this I have to blame Eva. She was so enthusastic about the new Book of Pierre Hermè that even I – who never was tempted by macarons before – started to think about baking them. I made a suggestion in the city library of cologne to buy the book and they did it immediately. Maybe they were tempted by Hermés Macarons as well?
After baking Berliner for carnival, I had a lot of leftover egg white. And as Eva promised, the recipe is not hard to follow if you have already a bit pastry experience. And it works perfectly for me, even as Macaron Newbie I got macorns with "feets".
For the filling, I decided to go astray from Hermès Recipe as I had some pomeranz juice sitting in the fridge and knew from experience that a curd made from this is incredible delicious. And the fruity tartness with the subtle bitter flavour harmonize very well with sweetness of the macaron.
Macaron Orange
yields about  16 Macarons
Macarons
150g finely grounded almonds
150g powdered sugar
a bit yellow food colour
55g egg white (1)
150g sugar
35g Water
55g egg white(2)
Bitter orange curd
80g Bitter orange juice
90g sugar
100g Egg
150g Butter
zests of 1/4 Bitter orange
Mix grounded almonds and powdered sugar in a food processor until very fine. Sieve the almonds through a fine sieve in a bowl and add food colour and egg white (1). Do NOT stir!
Now bring the sugar and water to boil, while whipping the egg white (2) to soft peaks. When the sugar syrup reach 118°C add it to the egg white while whipping. Continue whipping until the egg white cools to 50°C. Add the egg white to the almonds and egg white in the bowl and fold into the mixture. The mixture should be able to flow slowly from a spoon.
Pipe macarons with a diameter of 3,5 cm and let them dry for 30 min (important!). Their surface has to be dry to touch.
In the meantime prepare the bitter orange curd: Heat Bitter orange juice with sugar and butter, until the butter melts. Mix egg yolk and egg and pour it through a sieve into the juice mixture. While stirring constantly heat the mixture until it thickens. Fill into glasses directly and keep them into the fridge until use.
Preheat the oven to 170°C.
Bake at 170°C (Convection mode) for about 12 min. Open the oven door after 8 and 10 min to remove steam from the oven.
Fill the macarons with the curd and let them rest for 24 hours in the fridge before serving.