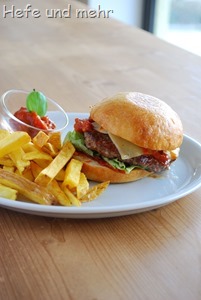 Did you wonder why there was no bread recipe last week? There is a reason as I spent one week in munich, baking and optimising recipes with the team of Ludwig & Jean which I developed for them.
The mail with the question, if I could create recipes for their organic burger and pizza bisto, reached me already back in November. After some long phone calls I knew what they wanted and I knew that I wanted to this! The recipes were challenging as they has to be made with pure spelt flour and only with wild yeast. Plus they had to be vegan so that the same buns can be used for burgers with meat and for vegetarian and vegan variants.
All January and February I was test baking and recipe tweaking intensely. With a spelt variant of my sweet starter the burger and pizza get a very complex, deep flavour. Not only the Pizza but the Burger buns as well benefit from a long, cold proof in the fridge. They are made following my principle that a good bun (or pizza) needs time – which is the same principle the guys from Ludwig and Jean follow!
And as I spent the last month thinking a lot about spelt there are some recipes for you coming soon as well – but there will be no pizza or burger buns as my love asked for a break to recover after all the test eating he had to do  in the past weeks 🙂 So you have to visit Ludwig and Jean if you want to try the buns or the pizza. You can find them here:
Ludwig und Jean
Guardinistraße 6
81375 München