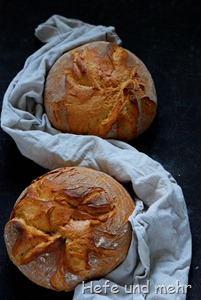 Another Bread from "Wishlist" is the Westphalian Farmers loaf. It is made with buttermilk and  lard. As breads with buttermilk easily catch my eye, I couldn't resist this whish.
It is a rustic bread with a small amount of rye which is typical for Westphalia and especially for the Munsterland. In its traditional form it is made with lard, but it can be made with ghee instead as well. In my version, I used it a rye poolish, which helps to create a very good crust and a great flavour. For the form I saw them as a long, slashed loaf as well as a rustic round loaves which were baked seam side up. I like the rustic look for a farmers bread more and so I baked round loaves.
During baking the bread develops a nice crisp, reddish brown crust due to the rye poolish. The crumb is very soft and fluffy. Another bread for my favourite list!
Westphalian Farmer Loaf
yields 1 Bread of about. 750g
Rye poolish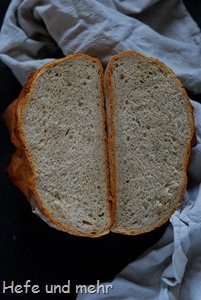 75g Whole rye flour
150g Water
1g fresh yeast
Dough
Rye poolish
425g flur Type 550
175g Buttermilk
25g Lard (or Ghee)
10g Salt
9g fresh yeast
For the rye poolish dissolve the yeast in the water and mix with flour. Let rise for about 14-16 hours.
Knead all ingredients for the dough for 10 min by hand. The dough should be now soft and a little bit sticky.
Let the dough rise for 1.5 hour at room temperature.
Place the dough on a lightly floured counter. Flatten the dough a little bit and start to fold the dough in the middle. Repeat until a springy ball has formed. Place it seam side dpwn in a proofing basket or in a bowl lined with a well floured kitchen towel.
Proof for 1.5 hours.
In the meantime heat the oven together with a baking tray and a metal vessel for creating steam to 250°C.
Transfer the bread directly on the hot baking tray. Throw a handful of ice cubes into the hot metal vessel of the oven and bake for 10 min on 250°C. Then turn the temperature on 190°C and bake for another 40 min. 10 min before the end of baking, open the door shortly to release the steam.