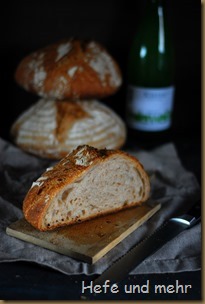 I can always see what our Neighbour, the wine merchant, sells when I look out from our kitchen window. But I do not have to observe his offerings very closely, because when he got something he knows we would like, he calls when he see us: "Herr and Frau Neighbour, I have something for you!" And so one of first boxes with six flask of this years federweisser was our as soon as it was delivered to him.
When I came home at this day from work I saw this happily fermenting flasks sitting on the kitchen counter. And when I saw them bubbling, an idea popped up in my mind. Before my love could stop me, I had already mixed a poolish out of Federweisser and flour, planning to bake a bread with the yeast of Federweißer as sole rising agent.
Overnight the poolish developed very well and so I mixed the dough early in the morning. After two hours the dough shows signs of fermenting, and rose about 30%, so I formed two breads. It took a long time, nearly six hours, until the loaves were ready to bake – next time I will put them in the fridge and let them proof over night. Finally I put them in the oven and the oven spring surprised me, it was really strong!
Waiting for the bread to cool down was really an hard job. But finally I could cut it. It has a crusty, dark crust and an open crumb. Its taste is a special one, not sour at all but slightly sweet due to the young wine. But the sweetness stays in the background and allows the taste of wheat, Einkorn and rye to shine through. A special taste indeed but a delicious one, too!
Federweisser Bread
Poolish
200g Federweisser
200g Flour Type 550
Dough
Poolish
100g Wheat, freshly milled
100g Einkorn, freshly milled
100g Rye flour Type 1050
600g flour Type 550
100g Federweissen
390g Water
30g sunflower oil
20g Salt
Mix flour and federweisser for the poolish and ferment for about 12 -16 hours at room temperature.
The next morning knead all ingredients 5 min at the slowest speed and 8 min at higher speed until medium gluten development.
Let rise for 2 hours
Divide into two pieces and form into round loaves. Place the bread seam side down in a bread form.
Let proof for 6 hours at room temperature or over night in a fridge.
Preheat the bread baking stone for one hour at 250°C.
Place the breads in the oven with steam. Turn the temperature back to 200°C after 10 min and bake the bread for another 30 min .
I sent this entry to Yeastspotting, Susans weekly showcase of yeast baked good.