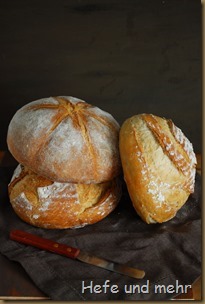 How to start baking bread? I remember that I started with  searching for a recipe and just simple following the instruction. I can't tell you anymore which recipe it was (it was before I started blogging) but I knew that it was far away from being perfect. But I already cached the bread baking virus.
Every now and then readers and friends asked me which of my recipes they should use for their first bread. I send Friends and colleagues, which I can provide with sourdough, directly to my favourite wheat and rye bread, which has an easy to handle dough. But giving sourdough to readers is not as easy and so I developed another recipe.
It is made with Pâte Fermentée as preferment. It is a preferment which did not need a lot of care. You mix it, you put it in the fridge, you wait for at least twelve hours. No fussing about the right temperature or the need of using it while on its peak.
The dough is easy to handle and instead of scoring the loaf, you can press it down with the handle of a wooden spoon, which creates the niece pattern on the loaf on top of the pile. But it is a bread which is great for experienced bakers as well. I used it with great success for making loaves decorated with roses  for the 90. birthday of my boyfriends grandmother.
And at the end it tastes great, as well. It has a soft, fluffy crumb under a crisp crust. It has a mild aroma with complex flavour profile due to the preferment.