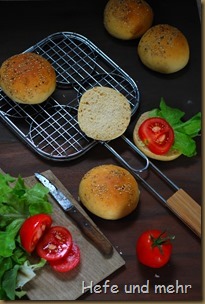 The summer weather last weekend made us thinking about grilling delicious Burgers in the evening. And so I had to bake burger buns, of course.
In the fridge I still have the preferment I made from my Honey-Wildyeast-Experiment. It has developed all traits of a Lievito madre, something not so suprising because both – Wildyeast and Lievito madre – are made with honey and contain nectar yeasts. But thinking about Lievito madre I decided that it would be time to use it once again in a bread. And so I tried a new recipe containing some sourdough starter from the fridge, Lievito madre, a water roux and some extra yeast for a fast rise.
I let the buns rise until they more the doubled their size and put them then in the oven. Once again I could see how the Lieviot madre did his magic and enhance the oven spring. The buns gain a lot of size during the baking, with a fluffy crumb and a soft crust due to the high fat content – just as a burger bun should be!
Burger-Buns
yields 12 Rolls
Water Roux
150g Waser
30g flour Type 550
Teig
150g Lievito madre
30g sourdough starter (out of the fridge)
380g flur Type 550
110g Water
70g oil
5g fresh yeast
50g Malt extract
10g Salt
Topping
For the water roux whisk water and flour untill lump free, then heat it up to 65°C (needs about 3 min) while whisking. Fill the water roux in a bowl, cover its surface with cling foil and let it cool down to room temperature.
Knead all ingredients for the dough for 5 min at slowest speed, then around 11 min on fast speed until complete gluten development.
Ferment for 1 hours.
Divide into 80g pieces and form to round buns. Wet their surface and sprinkle with sesame.
Cover and proof for 1 hour.
In the meantime heat the baking stone to 250°C.
Bake at 250°C for 20 min with steam.
I sent this entry to Yeastspotting, Susans weekly showcase of yeast baked good.