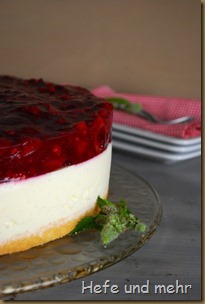 I was searching in the world wide web for a recipe for a "Käse-Sahne-Torte". This is a torte made with curd and cream and it is normally prepared with gelatine. I normally avoid gelatine, but I couldn't find a recipe for this childhood favourite without gelatine. But it couldn't be so hard to develop a recipe, I'm used to convert recipes for torte from gelatine to agar.
When working with agar, you have to keep some points in mind: Agar needs to boil before it can gelatinize and you should never ever cool down a liquid containing agar to fast. Agar will start to already around 30°C, which is about 10°C higher then gelatine. And so one of the main tricks in this recipe is the fact that I use curd, which has room temperature, and that I stir it very slowly in the milk in which I boiled the agar.
To add a fresh touch to the Torte I put a layer of red fruit jelly on top of it, which goes nicely with the warm summer weather. A delicious treat for sunday afternoons with the familiy
Rote Grütze Torte
Golden Chiffon
3 egg yolks
60g Water
60g oil
60g sugar
120g flour type 405
1,5 Tsp. Baking powder
3 egg white
60g sugar
1 pinch of Salt
Käse-Sahne-Creme
250g Milk
200g sugar
1 vanilla bean
5g Agar
500g curd
juice of 1 lemon
400g cream
Red fruit jelly ("Rote Grütze")
500g cherries (after pitting 350g)
200g raspberries fresh or frozen
200g red currants fresh or frozen
500g Apple elderberry juice or another red juice
125g sugar
75g starch
For the golden chiffon: Mix egg yolk, oil, water, sugar and spices until well combined, the sift flour and baking powder on the batter and fold it into the batter.  Whip egg white with sugar until it forms soft peaks, then fold it into the batter, too. Fill the batter in a well greased springform (Diameter 26cm). Bake at 175°C for about 20 min. Let the golden chiffon cool down and place it then in a cake ring.
For the "Käse-Sahne-Creme" take the curd out of the fridge 2 hours prior to baking so it will be on room temperature. Bing milk with sugar, the seeds of the vanilla bean and Agar to boil and boil it for 2 min. Remove the pot from the heat and stir in the curd in small portions. Stir in the lemon juice. Let the cream cool down to 35°C. Now whip the cream to soft peaks and fold it under the cream. Fill into the prepare cake mold and cool it in the fridge for some hours or (better) overnight.
The next morning wash the fruits and remove the pits of the cherries. Bring juice with sugar and starch to boil while stirring continuously. Let it boil for 3 min, then remove from the heat and fold in the fruits. Fill it as a second layer on top of the "Käse-Sahne-Creme". Let it cool in the fridge for at least two hours.