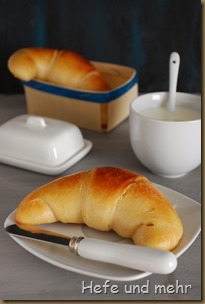 Since my childhood I love to eat sweet "Hörnchen" for breakfast. But when I try to let the buttery buns rise over night in the fridge I run into a problem. Putting a dough with a high butter content in the fridge makes the butter solid. The solid butter inhibit the prober rise of the dough and this leads to a reduced volume.
Changing butter to a mild sunflower seed oil helped a lot. Similar to the  Burger buns I baked two weeks ago, this recipe works with a relative high amount of oil, which makes the crumb soft and fluffy. The taste is different from my standard recipe, missing the prominent butter flavour. But the mild taste of the oil allows the complex flavours of the preferments shine through. And so are this delicious Hörnchen a great alternative for my favourite breakfast!
Hörnchen with Lievito madre
yields 12 buns
Pâte Fermtée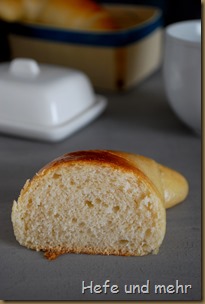 60g Spelt flour Type 630
45g Water
1g fresh yeast
1g Salt
Water Roux
150g Water
30g Spelt flour Type 630
Dough
Pâte Fermtée
150g Lievito madre
330g flour Type 550
55g Water
80g oil
5g fresh yeast
5g Salt
60g sugar
Glazing
For the water roux whisk water and flour until lump free, then heat it up to 65°C (needs about 3 min) while whisking. Fill the water roux in a bowl, cover its surface with cling foil and let it cool down to room temperature.
Knead all ingredients for the dough for 5 min at slowest speed, then around 11 min on fast speed until complete gluten development.
Ferment for 1 hours.
Divide into pieces of 80g, preform to balls and let them rest for 15 min. Flat the balls to ovals with a length of 18 cm and a width of 12 cm. Roll from the long side to a log. Form to a crescent and place on a paper lined baking tray.
Proof overnight in the fridge.
For glazing cook starch with water and let cool to room temperature. Store overnight in the fridge.
Preheat the oven to 200°C.
Glaze the crescents with glazing and bake for 20 min at 200°C.