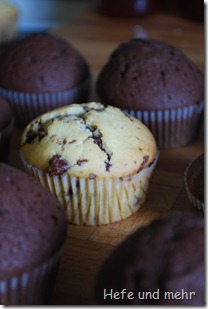 I bake them rather seldom but this fluffy muffins are a nice snack for a long travel or a delicious treat to share with co-workers. And what I like most about this recipe is the fact that I have to only one dough to get two different kinds of muffins. I would just change one thing next time: I would add some chopped chocolate to the dark muffin variation to make them even more delicious.
I found in the recipe in "Advanced Bread and Pastry".
Chocolate muffins
yields 12 Muffins with chocolate chunks and 12 dark muffins
500g flour type 405
15g baking powder
5g salt
100g oil
100g butter
3 egg, size L
300 ml milk
300g sugar
1 El vanilla essence
150g coarsley chopped chocolate
40g dutch cacao
1 table spoon milk
Mix flour with salt and and baking powder and sieve the mixture. Cream sugar, oil and butter, then add the eggs and mix untill the sugar is dissolved. Now add milk and vanilla essence.
Now add the flour mixture, mix untill homogenous then divide the dough. Add cacao and 1 table spoon milk to one half, chopped chocolate to the other half.
Place muffin liners into two 12-muffin pans and fill with dough. Bake 180°C for about 15 min.