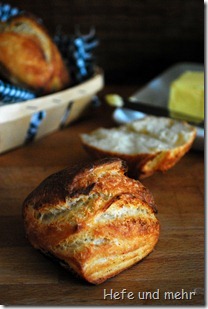 Like Lutz I like to vary the basic recipe of the yoghurt sesame rolls very much. The Hazelnuts rolls were my first variation and a very delicious one!
When my mum asked me if she could bake the yoghurt sesame rolls with curd instead of yoghurt because she like the more sour taste of curd. I told her directly "What a great Idea" and go to the kitchen to create a recipe with curd.
Like in the recipe for this no knead wheat bread I added a poolish and fold the dough three times before fermenting over night. To fold the dough is a easy method to develop the gluten network which creates a nice crumb without kneading. Because curd contains not so much liquid as yoghurt I added some milk to the recipe.
The curd rolls taste aromatic and slightly sour and the crumb is soft and moist. The crust is nice but not as crisp as the crust of rolls just made with water, flour and yeast.
Because the rolls are not kneaded they fit perfectly for the theme of the 38. Bread Baking Day which is "no knead Bread". I send the entry also to Yeastspotting, Susans weekly showcase of yeast baked goods.
Curd rolls
Poolish:
100g flour Type 550
100g Water
0,5g fresh yeast (a tiny little bit)
Teig:
300g flour Type 550
300g curd
100g Milk
8g Salt
1g fresh yeast
Morning: Mix water, flour and yeast for the poolish and ferment it  for 12 to 16 hours at room temperature.
Evening: Dissolve the yeast into the water and add the mixture to the other ingredients in a big bowl. Mix all ingredients for the dough, if not all of the flour can easily incorporate add another 20g milk. Let it rest for 30 min, then fold it from the outside of bowl into the middle for three or four times. Let rest for 30 min again, then fold the dough and repeat the resting and folding steps one time more. Ferment the dough overnight (8 – 10 hours) at room temperature.
The next Morning: Heat the Baking stone to 250°C. In the meantime roll the dough on a well floured square with a length of 40 cm. Fold from left and right to the middle, then from top and bottom so that the resulting square has a length of 20 cm.
Use a dough scrapper to cut 9 square rolls. Proof for 60  min.
Bake at 250°C for 18 min on a preheated bread baking stone with steam.