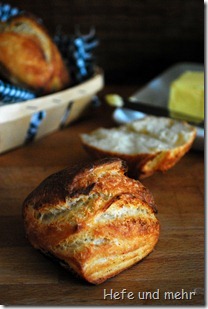 Like Lutz I like to vary the basic recipe of the yoghurt sesame rolls very much. The Hazelnuts rolls were my first variation and a very delicious one!
When my mum asked me if she could bake the yoghurt sesame rolls with curd instead of yoghurt because she like the more sour taste of curd. I told her directly "What a great Idea" and go to the kitchen to create a recipe with curd.
Like in the recipe for this no knead wheat bread I added a poolish and fold the dough three times before fermenting over night. To fold the dough is a easy method to develop the gluten network which creates a nice crumb without kneading. Because curd contains not so much liquid as yoghurt I added some milk to the recipe.
The curd rolls taste aromatic and slightly sour and the crumb is soft and moist. The crust is nice but not as crisp as the crust of rolls just made with water, flour and yeast.
Because the rolls are not kneaded they fit perfectly for the theme of the 38. Bread Baking Day which is "no knead Bread". I send the entry also to Yeastspotting, Susans weekly showcase of yeast baked goods. Continue reading →