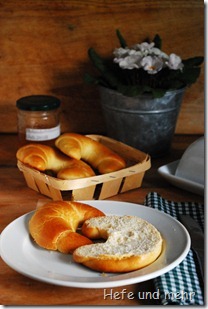 When I was small I loved to eat "Hörnchen" for breakfast. This crescents made of a sweet dough are still a favourite treat when we sometimes have breakfast at the cafe that is attached to my favourite bakery.
I don't know why I never baked them at home. Somehow this idea did not occur to me. But last weekend I changed this sad fact and baked "Hörnchen". They are so easy to do!
I decided to prepare a sweet yeast dough with pâte fermentée for more aroma and structure and water roux for a soft crust and a fluffy cumb.
And when I drew them out of the oven I knew that they are success. The crust is soft, the crumb fluffy and the taste is great. I love them for breakfast on Sunday, spread with honey from a local beekeeper. Continue reading →