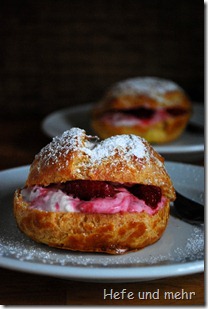 A colleague of mine served at her birthday delicious cream puffs filled with raspberries. When she told me the recipe of the filling I realized that it is so simple that I did not need to write it down: Mashed raspberries folded under whipped cream.
On last Sunday afternoon I longed for a cup of coffee with some sweet treat. Luckily I found some frozen raspberries so I could bake some cream puffs with raspberry filling.
I posted the recipe for pâte a choux before and baked it since then often. This time I decided to bake the cream puffs a little bit bigger so I baked them a for a longer time.
Something I learned since I baked cream puffs for the first time is that the convection mode in the oven is really helpfull, especially when you open the oven a little bit to early and the puffs start to collapse. Then close the door  fast and switch on convection mode. That let them puff again and saved on of my batches!
Cream puffs with raspberry cream filling
yield 6 cream puffs
Pâte à Choux:
90g milk
90g water
80g butter
4g sugar
3g salt
100g flour type 405
145g lightly beated egg(about 2,5 eggs. Use remainig egg for glacing)
Filling:
200g whipping cream
20g sugar
300g raspberries
Dusting:
Pâte à Choux: Head in saucepan milk, water, butter, sugar  and salt until the mixture boils. Remove from heat and add the flour all at once and mix until all the flour is incorporated. Place the saucepan on the stove again and whip at low heat for another 1-2 minutes, until the dough pull apart from the bottom.
Let the dough cool down a little bit, then mix in 3/4 of the egg.  When homogenous add the rest of the egg an continue whipping until a smooth dough is formed.
Make small mounts of Pâte à choux with a tablespoon on a parchment paper lined baking sheets and glace with egg. Bake at 150°C with convection for 50 min until golden.
For the filling whip the cream until soft peaks. Mash the raspberries with a fork and fold in the whipped cream. Half the puffs and fill them with the raspberry filling. Dust with powdered sugar.