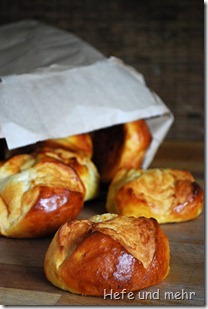 The Theme of this month' bread baking day is "Bread with Curd". You can find bread and Pastry made with curd very often on our table and I bake already two recipes for BBD with curd.
Because I like sweet buns ( they are called "Weckchen" in cologne") very much I decided to bake some "Quark-Weckchen" (Curd buns) for bread baking day.
Curd makes bread moist and adds a subtle tartness to the dough. To prevent a to sour dough I decided to use a poolish as preferment. I kneaded the dough very long to make the crumb fluffy and regular and because of butter and egg the crust stays soft.
I do not use so much sugar for this buns, so if you like a more sweet bun like Pani di cena you should increase the amount of sugar.
The buns are everything that I love for a quiet breakfast: Soft, slightly sweet and slightly sour. Prefect for sunday mornings!
Soft curd buns
yields about 18 buns
160g water
160g flour Type 550
1g fresh yeast
Teig
Poolish
110g Egg (2 big eggs)
540g flour Type 550
500g curd
10g fresh yeast
125g Butter
100g sugar
10g Salt
Glazing
Mix water, flour and yeast for the poolish and ferment it overnight (12 to 16 hours) at room temperature
Now add yeast, salt, egg, curd and flour to the preferment and knead on slow speed for 8 min.  The dough has a very firm consistence. Now add the sugar in small portions and knead until the sugar is completely incooperated before adding the next one. After all sugar is added to the dough, add the butter all in once and knead until a soft, silky dough is formed.
Let rise for 1.5 hours then chill the dough in the fridge for about 2 hours. Forming the buns will be easier if the dough is chilled.
Dived the dough in 85g and form into balls. Place on two paper lined baking  trays and proof for 1.5 hour.
Glaze with egg white and cut cross wise.
Bake at 200°C for 15 – 20 min.
Das ist mein Beitrag für Susans wöchentliches Yeastspotting. Einen Besuch auf ihrer Seite kann ich sehr empfehlen, es gibt dort so viele schöne Brote zu bestaunen.