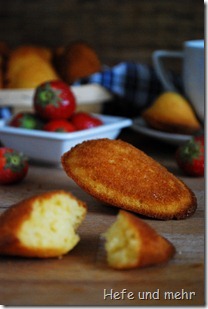 Marcel Proust connected the taste of Madeleines with memories of his childhood, as he described in "Remembrance of things past". I do not have any associatations of the taste of Madeleins with memories of my days as a child because the first time I ate a madeleine is only some weeks ago when I used my new madeleine pan for the first time.
But it was love on the first bite. They are a little bit crisp when they are fresh from the oven with a spongy crumb.
Their taste a little bit eggy and my sister told me that their taste reminds her at the egg cookies we ate when we were children (and there he is, the "Proust moment"). My recipe is fructose reduced and lactose free because I used rice malt syrup and Margarine. Of course you can replace the margarine with butter and the syrup with a mild creamy honey like spring flower honey or fruit flower honey when you don`t have to think about such restrictions.
I made the madeleine at the moment often, they are so delicious, beautiful and so easy and fast to bake!
Madeleines
yields 30 Madeleines
75g sugar
75g rice malt syrup
160g egg(3 big eggs)
150g flour type 405
2 tsp vanilla extract
1 Pinch sal
5g baking powder
150g molten butter (or Margarine if you bake lactose free)
Mix sugar, rice malt syrup with eggs, vanilla extract and salt. Fold in baking powder and flour. Now add the molten butter and mix until homogenous.
Grease the madeleine pan and place about one table spoon dough in each shell formed cup.
Bake at 200°C for about 10 min.