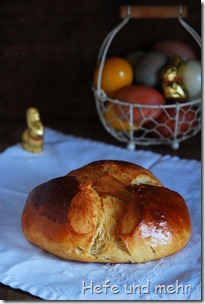 Since some years I always thinking during Eastern, that it  would be nice to bake an Easter Pinze. Until now, I never did it, but this year it seems to be the perfect time. After a quick search in the internet showed me that there are two different recipe variation. One is made with anise wine, the other one with grated lemon or orange peel. I would never allow anise seeds into my kitchen, not to mention to bake with them… So it was an easy decison.
As basis for my recipe I started with Petras Recipe, but added a sourdough and a milk roux and changed the rest of the recipe accordingly.
When I take the bread out of the oven, it smells already very good, after fresh lemons. And its taste is great, too. Lemon with the tiny bit of tanginess from the sourdough make the bread taste like the fresh air in spring.
]Easter pinze with sourdough
Sourdough
120g flour Type 550
85g Water
15g Sourdough
1. Preferment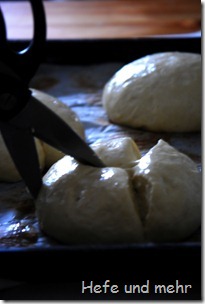 40g flour Type 550
5 g fresh yeast
30g Milk
2. Preferment
Sourdough
1.Preferment
80g flour Type 550
30g Egg yolk (2 Egg yolks)
20g Milk
35g sugar
Milk Roux
30g flour Type 550
150g Milk
Dough
2. Preferment
Milk Roux
275g flour Type 550
35g sugar
55g Egg (1 Egg)
75g Butter
5g Salt
1 El lemon juice
grated peel of 1 lemon
Sourdough: Mix all ingredients to form a homogenous dough. Ferment overnight (about 10 hours) at 28°C.
For the milk roux whisk milk and flour until lump free, then heat it up to 65°C (needs about 3 min) while whisking. Fill the milk roux in a bowl, cover its surface with cling foil and let it cool down to room temperature.
Preferment 1: Mix the sourdough and the other ingredients for the preferment 1 to form a homogenous dough and ferment for 3 hours at 30°C.
Preferment 2: Mix all ingredients and ferment it for 30 min at 30°C.
Final dough:  In a stand mixer mix the preferment and milk roux with flour, salt, lemon juice and peel and egg and knead for 5 min at slow speed, then another 11 min until full gluten development.
Now turn the mixer to slow speed then add the sugar, knead for another minute. Now  add the butter all at one and knead until full incorporated.
Ferment for 1.5 hours, fold the dough one time in between.
Divide into three equal pieces. Form each dough piece into a ball.
Proof for 1.5 hour.
After proofing glaze with egg or cream. Now cut the rolls with scissors tree times at the sides, the cuts should meet in the middle.
hen bake at 200°C for about 30 min with steam.
I sent this entry to Yeastspotting, Susans weekly showcase of yeast baked good.