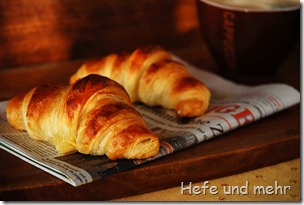 Sunday morning, sunshine instead of the precasted rain, a cup of coffee and a crispy butter crescent –  is there a better way to start the day?
I tested a new variation of my overnight recipes – Yoghurt-Butter-Crescents. After the Croissant bread it was time to laminate another batch of dough.
When I prepare the dough I decided to use some of the yoghurt I found in the fridge together with a milk roux as liquid component for the dough. I kept the yeast amount small to enable proofing overnight and this low amount of yeast made laminating easier, too, because the dough nearly did not rise during the laminating.
The yoghurt gave the crescent a slightly tart aroma and the long proofing make the taste more complex. The Crescents are light and crispy after baking and the honey comb structure of the crumb is not bad but still away from perfection. But this are the best croissants I ever bake so I am still happy with them!