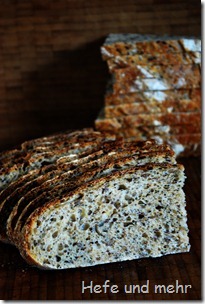 It's time for another bread recipe after I posted so much sweet stuff in the last week. This Seed-Bread contains besides roasted poppy seeds, sesame and flaxseeds also amaranth seeds and polenta, which gave a nice aromatic taste to the bread. Amaranth is a good source for essential amino acids which are missing in wheat and corn and contains a lot of iron, magnesium, phosphorus, copper, and manganese. Its a very healthy "pseudo grain" and I try to involve it more often in our cooking.
The dough is prepared similar to the recipe of the sourdough bread with roasted oats. The gluten network is developed with folding the dough. No need for a food processor for preparing this bread.
The hot soaker I prepared with the polenta and the seeds adds moisture to the crumb and the bread stays fresh really long. But if you do not need two loaves of 1.2 kg each, it would be a good idea to half the recipe.