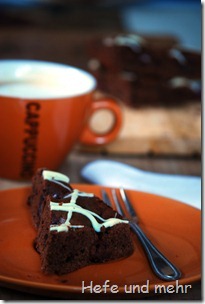 The Boyfriend had his last day at the place where he worked as student help for the last five years. Next month we will begin with his practical semester. To make the farewell a little bit sweeter, we baked some chocolate cherry cake and cheese puff pastry swirls.
The chocolate cherry cake is colleague-approved, I baked them some month ago as a "Doktor cake" for my colleague Alex, too. It is a delicious but easy to prepare cake which can be transported without being damaged.
I found the original recipe on lecker.de, but I take the amount of sugar (450g!) as an suggestion and decided to use 200g less sugar then the recipe said. Even then the cake was sweet. I think, you could even reduce the sugar amount for another 50g without troubles. I used one egg less than the recipe asked for, too. This fits more to the content of our fridge :-).
The result is a delicious cake, with a lot of chocolate and fruits, a new favourite!