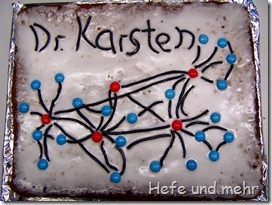 This Thursday we had once again a Disputation. After we prepared the traditional Doctor hat and Doctor wagon I came home late at Wednesday night and started to bake the Doctor cake. Normally we bake some kind of chocolate cake, but this time I felt very Christmassy and so I decided modify my chocolate cake recipe. I reduced the sugar amount and the cacao amount and added some grated chocolate and  some gingerbread spice to the dough. I add only a tiny little bit of spices, so that you can taste them nicely without being dominant. The high amount of liquid make the dough very soft and results in a moist and light cake. My colleagues and the freshly made Ph.D. liked the cake very much and so this will be not the last time I bake this cake.
Scientific note: The cake decoration shows a protein network my colleague  created during his Ph.D. thesis.
Spice Cake
600g flour Type 405
30g cacao
12g Salt
30g baking powder
360g soft Butter or Margarine
450g sugar
420 g Milk #1
1 Tsp. Ginger spice
300 g Mill #2
6 Eggs (Size L)
200g Semisweet chocolate (grated)
Sieve flour, cacao, salt and baking powder into a bowl and add the butter, mix with a mixer untill everything is mixed well and a lot of small crumbs has formed. Now add sugar and milk #1 in small portions while mixing, this take about 3 min. Now mix egg, milk #2 and vanilla extract and add this mixture in small portions to the dough, too. The dough is now very thin.
Line a baking sheet with paper and pour the dough on it.
Bake at 170°C for about 45 min.
After cooling sprinkle some powered sugar on the top.