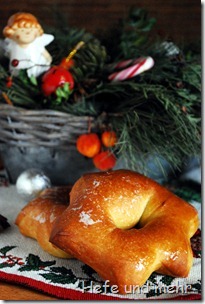 I was very sad when Martin from Pain de Martin posted this summer that he would stop blogging. I liked Martins Ideas very much and his recipes often inspired me to my own recipes.
And so I was very happy when I saw some days ago that he started his new blog Lite mer bröd.  When I read the new entries I found directly one I wanted to try: long fermented saffron buns with an orange filling.
I decided to try a variation of this recipe for breakfast on Christmas. So I skipped the filling and reduced the sugar amount. For kneading I do it like I do all sweet dough: I knead the dough until medium gluten development without sugar and butter. Then I add the sugar gradually and at the end the butter. That yields a dough with a good developed gluten network because sugar and butter cannot interfere with it.