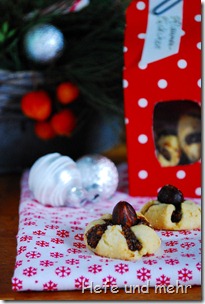 Its already the third advent and I still did not post a single Christmas cookie recipe! I have to change this immediately!
But until now I bake the traditional cookies in our family: Vanilla crescents, Liebesgrübchen, Black and white Kisses and Linzer Rings. But in the December Magazine of "Schrot and Korn" there were a cookie recipe that temped me very much. Little Plum Packets a butter cookie filled with plum butter and ground nuts.
They looked very complicated but when I read the recipe I realise that they are much easier to do the I thought. You just has to cut out stars, place a little bit of the filling in the middle and fold the pointed ends of the star over the filling and close everything with a hazelnut.
The cookies are great: a soft fruit and nut filling with hints of vanilla and cinnamon. I like them very much!