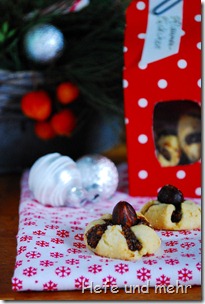 Its already the third advent and I still did not post a single Christmas cookie recipe! I have to change this immediately!
But until now I bake the traditional cookies in our family: Vanilla crescents, Liebesgrübchen, Black and white Kisses and Linzer Rings. But in the December Magazine of "Schrot and Korn" there were a cookie recipe that temped me very much. Little Plum Packets a butter cookie filled with plum butter and ground nuts.
They looked very complicated but when I read the recipe I realise that they are much easier to do the I thought. You just has to cut out stars, place a little bit of the filling in the middle and fold the pointed ends of the star over the filling and close everything with a hazelnut.
The cookies are great: a soft fruit and nut filling with hints of vanilla and cinnamon. I like them very much!
Little Plum Packets
yields 60 cookies
Dough
150g flour Type 550
90g Butter
1 egg yolk
50g sugar
10g vanilla sugar (homemade)
1 Pinch Salt
Filling
180g plum butter
100g ground hazelnuts
1 Pinch cinnamon
Decoration
Knead flour with sugar, egg yolk, vanilla sugar and butter. Rest the dough for one hour in the fridge.
For the Filling mix plum butter, ground hazelnuts and cinnamon.
Roll the dough to a plate with a thickness of 3 mm. Cut out Stars with a diameter of 7 cm. Place a little bit filling on each center of the stars and fold the pointed ends over the filling. Place a hazelnut on top.
Bake at 175°C for 15 min.