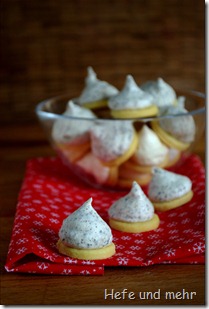 When I saw the Black&White Kisses from foodmayhem at Tastespotting  I fall in love with this little meringue puffs. I had to bake them directly! And because I planned to bake linzer cookies I used half of the dough for the kisses instead.  And some left over egg white I always found in my kitchen during Christmas baking.
I use all my left over chocolate which I grind finely. I used about three times of the chocolate amount the recipe ask for.
To make the cookies lactose free I prepared the dough with margarine.
The small kisses are beautiful, delicious and easy to do. I like the feeling when the kisses melt in the mouth. Chocolate and meringue are a perfect couple. Another new Christmas favourite.
Black and white Kisses
Dough:
125g flour Type 405
20g sugar
1 egg yolk
75g Margarine
Meringue:
2 big egg white
1/2 Tsp vanilla extract
100g sugar
120g ground dark chocolate (70% cacao)
Knead the ingredients for the dough shortly until combined and cool in the fridge for hour. Roll out thinly and cut round cookies with a diameter of  3,5 cm. Bake at 175 °C for 6 min. Let them cool down.
In the meantime whip the egg white with vanilla extract until the surface is frothy, now at slowly the sugar while whipping. Whip to stiff peaks. Fold in the chocolate carefully and pipe little puffs on the cookies with a piping tip with a diameter of 13 mm.
Bake (dry) at 100°C for 60 min.