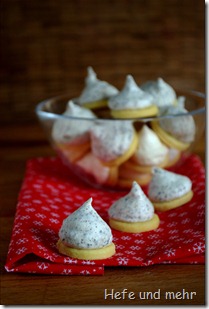 When I saw the Black&White Kisses from foodmayhem at Tastespotting  I fall in love with this little meringue puffs. I had to bake them directly! And because I planned to bake linzer cookies I used half of the dough for the kisses instead.  And some left over egg white I always found in my kitchen during Christmas baking.
I use all my left over chocolate which I grind finely. I used about three times of the chocolate amount the recipe ask for.
To make the cookies lactose free I prepared the dough with margarine.
The small kisses are beautiful, delicious and easy to do. I like the feeling when the kisses melt in the mouth. Chocolate and meringue are a perfect couple. Another new Christmas favourite. Continue reading →