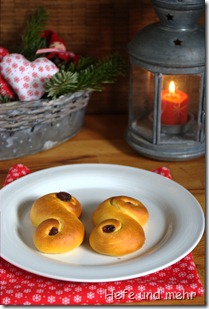 I fall in love with Lussekatter – Lucia cats – already last year. This little buns are from Sweden and are a traditional treat on 13. December. Last year I had no time to bake them but this year I made the little saffron buns punctual for Saint Lucia's Day.
Looking for an recipe in the Internet I realize that there are to groups of recipes: one using kesella – a kind of curd, the other one being a normal yeast dough. Adding curd to the buns helps to make them softer. But I decided to use no curd but to add some water roux to the dough which adds more moisture to the dough and makes it soft, too. Then I reduce the amount of yeast found in most recipes, and let the dough rest overnight in the fridge. The cold dough is much easier to handle at the next morning.
The lussekatter are a beautiful treat for the breakfast table during christmas time, with a beautiful yellow crumb and the gentle taste of saffron.