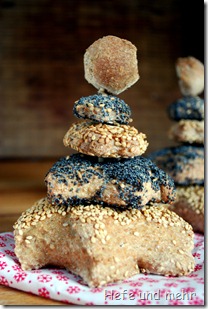 For raclett with the family on christmas eve I volunteered to bring some bread. I decided fastly, that I want to bake Sacaduros. But then I feel that I would like to bring something with whole wheat, too.  Simple rolls are to boring for Christmas I thought but then I remember something I saw last year on Cindystar: beautiful Christmas tree rolls.
They are not so difficult to make: Rolls in the shape of stars in different sizes are pilled on each other and fixed with a wooden skewer.
Because I do not own big cookie cutters in form of a star I used Bertinets Methode to form Stars. The holes in the middle of this star I filled with small dough balls.
These little Christmas trees are a nice Eye catcher for the Christmas table Continue reading →